If you are planning to buy a Kent Grand Plus RO Water Purifier but are not sure if this model is worth it or not? This post is for you. This is a full fledge Kent Grand Plus RO Water Purifier Review to clear all your doubts.
Kent Grand Plus is a top-of-the-line water purifier that is known for its quality and performance. It is a great choice for those who are looking for an efficient and reliable water purifier. The Kent Grand Plus comes with a host of features that make it a great buy.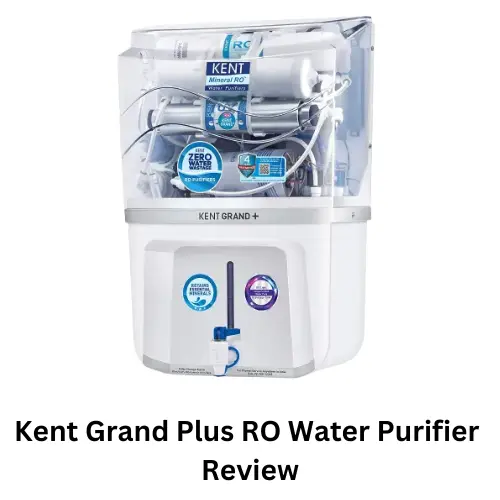 Kent Grand Plus RO Water Purifier – Description
The Kent Grand Plus 9 LTR Mineral RO UV UF TDS Control with UV in the Tank Water purifier is a high-quality water purifier that can provide you with clean and safe drinking water. In addition, the Kent Grand Plus has a zero water wastage feature [Read More] so that the rejected water can be sent back to the overhead water tank.
It has a mineral RO system that removes harmful toxins and contaminants from your water, while the UF filter removes all the dissolved solids.
The unit also features a built-in UV disinfection system that kills any harmful bacteria or viruses, making your water completely safe to drink.
A TDS controller ensures that the purified water has the perfect level of dissolved minerals, so you can enjoy great-tasting, healthy water.
The quality of water is very important for both human and industrial use. In order to make sure that the water is of the best quality, various water purification processes are used. One of these processes is multiple purifications by the RO, UV, UF, and TDS Control process. This process removes even dissolved impurities such as arsenic, rust, pesticides, and fluorides, and kills bacteria and viruses to make water 100% pure.
Water is a precious commodity and should be used judiciously. In many parts of the world, water is in short supply and this precious resource needs to be conserved. The traditional way of purifying water involves the wastage of water as it is rejected during the purification process. This Zero Water Wastage Technology recycles the rejected water to the overhead tank using its existing booster pump, ensuring that no drop of water is wasted.
UV LED protection is a new technology used in the storage tank of purified water to keep the water pure for longer periods of time. The UV LED protection kills any bacteria or other microorganisms that may be in the water, keeping the water safe to drink for a longer time. This technology is becoming more and more popular, as it is a more affordable and efficient way to purify water than traditional methods.
The Kent Grand Plus water purifier is a great option for those who are looking for a reliable and affordable way to get purified water. One of the best features of this model is the water level indicator which allows you to keep track of the purified water in the storage tank. This is a great feature because it helps you to avoid running out of purified water unexpectedly.
Multiple purification stages
Double Protection by RO & UV
9-liter storage tank
3 years additional service warranty
Double UV for more protection
The product is costly.
Zero Water Wastage plumbing is not done by the brand.
Conclusion
Kent Grand Plus RO Water Purifier is one of the most successful and time-tested RO Water Purifiers from the leading RO Water Purifier brand in India, KENT. Though the price of Kent Grand Plus RO Water Purifier is a little higher it is worth buying a Kent Grand Plus RO Water Purifier for your home.